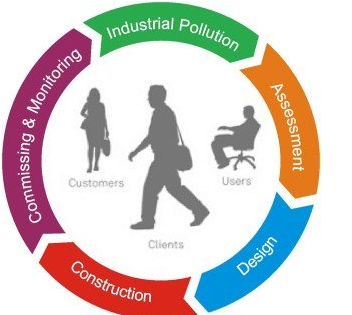 Environment Impact assesment
An Environmental Impact Assessment (EIA) is a procedure for assessing the potential environmental effects of a project or growth proposal while considering associated socio-economic, environmental, and human health effects, both subjective and objective.

EIAs do correctly reduce disputes by encouraging community engagement, educating decision-makers, and laying the groundwork for ecologically sustainable operations. Rewards of adopting EIA are concluded at all phases of a project, from prospecting and development through building operations, waste disposal, and even beyond site closures. Alternately, we can describe that an Environmental Impact Assessment (EIA) is a technique used to quantify the environmental, ethical, and economic effects of a project before commencing and concluding.
Our EIA team consists of professionals who work together to deliver an integrated, multi-disciplinary solution in support of our customers' development objectives, whether the need is for planning approval, licensing, or permitting requirements.
Our packages consist of the following:
Environmental Site Assessments
Remediation Oversight
Petroleum & Hazardous Waste Determination, Remediation and Disposal
Groundwater and Surface Water Sampling & Monitoring
Soil, Sediment, and Benthic Sampling
Environmental Sampling & Monitoring
EIA/EMP Report Preparation
Environmental Audit
NOC from Pollution Control Board
STP/ETP Installation & Monitoring